SBI Review
My SBI Review
With this SBI Review, I would like to tell you my e-business journey.
Flashback
Some time ago, in 2008, I began pondering the idea of writing a book about project management. What I could bring in was fifteen years of project management and sales experience as well as another nine years of experience as a consultant, coach and trainer of project managers and their teams. My primary goal was passing on my experience to interested readers, my secondary goal was creating another source of income – via that book – for the time after my retirement. Being employed with a multi-national company in a job and position I really loved, it was obvious that writing my book could only become a free time activity.
I started to research classical publishing and self-publishing methods and channels. This led me to e-publishing. But there was still one question that kept me worrying: how could I test my writing skills and the attractiveness of my way of writing?
Discussing this question with my family, friends and colleagues, it occurred to me that I could create a website with that project management content and analyze its acceptance and the feedback for it in order to get some feeling about what to write and how to write it, before beginning to write.
Search for a website builder
This was the reason to continue with research of web(site) builders: what do they offer, what is useful for me, how much time do I have to invest to learn (HTML, CSS, JavaScript, PHP, MySQL, etc.) and to build the website?
Originally, I was looking for the best solution in terms of
site design,

page building,

site administration,

any further support for managing content and website and additional services and tools.
The lists of website builders seemed endless, including – to my surprise – all kinds of "get-rich-fast" schemes. Soon it became clear that it was not an option uploading my own html-css-javascript-php files, at least, not from the beginning, and I also discarded all those "get-rich-fast" schemes right away. However, it was clear as well that I wanted the possibility to create and integrate my own code at a later stage, without changing the site structure, existing content and layout, or even starting from scratch. Serious offers, but none being close to complete, were ranging from 15 USD to 45 USD per month, each one offering a lot of expensive so-called "add-on's" or "plug-in's". I started wondering if my idea was really that good all together, but I decided to carry on with my research using the last few search terms I had on my list but did not try before.
Review of Site Build It
This was when Site Build It, or SBI in short, came into my view: I followed a link to a website whose owner explained some of the basics of building an online business including a successful web presence. Finally, she recommended using SBI!.
Her site looked good, provided a lot of very useful and interesting content. So, I followed her recommendation and started immediately studying the material SBI offered on several pages of their site. What I found there was a wealth of references, case studies and tools, essentially everything I was looking for, plus the explicit commitment to help me with going beyond creating just a website but rather building an online business, for 25 USD per month plus a money-back guaranty during the first 90 days in case I was not satisfied. Was this my jackpot?
The SBI Offer
Back then, in late 2008, reading through SBI's material, the first thing that struck my mind was this: instead of only testing my writing skills and content for publishing a project management book, I could step up to building a successful online business. I recognized that this "test" could become the real thing itself.
With this insight at the beginning of my SBI review, I began to see their offers with different eyes. In none of all the other website builder presentations did I ever find anything about my chances as their customer or user to become successful using their products. Only SBI could show how they would support me, what I had to contribute and gave me references to other customers of SBI (= SBIers) who did it already successfully.
For me it came down to two convincing aspects SBI mentioned explicitly:
They do not offer a get-rich-fast approach. It is hard work to build up a successful e-business, which meant for me: it is hard work to ultimately write and publish a good e-book on project management. These statements on SBI pages were straight forward and direct, very honest in my point of view.

With my first ideas about writing a PM book, it was obvious that this endeavor would become a project. So, before making my decision, I wanted to check the SBI approach against my experience: would it match to a project management process?
Central to the SBI concept of a successful e-business was – and is – the C-T-P-M model, a model that describes how, or for what purpose, people use the internet, and how this insight could help someone like me building an e-business:

The second most important thing I found was – and is – the Action Guide, which I had to follow if I wanted to build my e-business correctly, from the beginning. The Action Guide consists of an introduction, followed by ten steps, or "days", as SBI call them.
For building my website, SBI!recommended I should go through these steps in that order. To conclude my SBI!review, and before making my decision, I wanted to know if the Action Guide (AG) matched the picture of my project "build a website around my topic". Here is a diagram of how I mapped the ten steps to a general project management process (PM):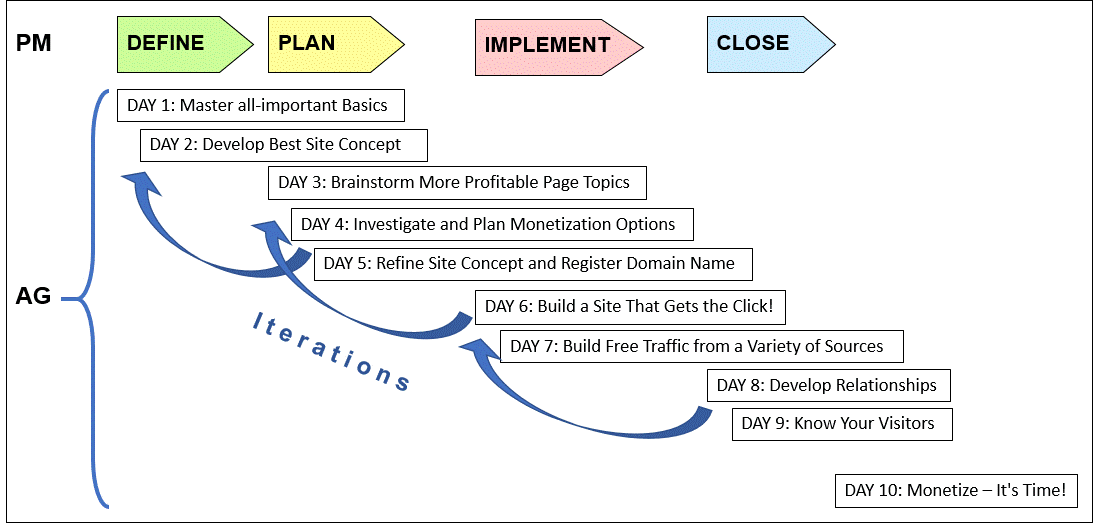 Days 1 and 2 correspond to definition phase, days 3, 4 and 5 to planning phase, days 6 and 7 to implementation phase, and days 8 and 9 to closure phase. I called my project
"Initial build-out of the website www.project-management-knowhow.com".
Since I considered this a typical IT project, it was obvious that there would be several iterations I had to go through. It also seemed that day 10 of the AG, monetization, had to wait until I could offer enough content and extras that pre-sell, which was also clearly mentioned in the AG. The expected result of this project became this website, comprising approximately fifty pages with "real" content, plus roughly thirty additional elements you, my visitors, would find useful as well. The very good match of the AG to the general project management process was a big PLUS, so that I could finish my first SBI review.
At that point, I had a very good feeling about SBI's offer, decided to give it a try and signed up on December 24, 2008. Less than two weeks later, the domain name of my website was already registered, and I was in "full swing" as a writer in my after-work time, creating page after page.
First learnings
During those first four or five months, I did not yet fully comprehend the abundance and usefulness of all the material and tools available through my subscription with SBI. Strictly following the AG, I spent most of my time – after work – with using
the tool set BrainstormIt to define and refine relevant keywords for content structure and creation as well as to decide the niche of my e-business,
the tool sets PageManager and SiteBuilder to get my written content into a reasonable layout and to put it online (without writing even one line of code).
However, I totally missed another tool set, called TrafficCenter – I was just too busy with my day job and my new night job: writing. When I finally got aware of that traffic analysis tool, around June 2009, I found –to my big surprise – that my website had already tens of visitors per day, and this number was growing.
"Hmm, so, that promise is kept", I said to myself, with a little smile, and decided to go back to my desk writing and creating more content.
This was THE moment when I gained full trust in SBI and their concept, with all its details.
By the end of October 2009, I completed the initial build-out of my website and started with exploring and implementing monetization options and the development of products (MakeIt did not exist, yet). Within only a few months, revenue was covering all my cost, plus a bit, while making sure that I met the business conduct guidelines of my employer – I still loved my day job.
Fast Forward
Today, as of July 2017, SBI stands for Solo Build It. They address all solopreneurs, aka entrepreneurs who work alone. SBI truly claim to offer
"the only all-in-1 package of step-by-step process, software tools, comprehensive guidance, 24/7 support and 'auto-updating' that enables solopreneurs to build profitable online businesses".
If I had to do another SBI review, my evaluation would be even better than eight and half years ago. The SBI suite evolved into the most comprehensive e-business building suite I know or heard of. The integrated site builder, which is based on standardized building blocks, allows for creating fully responsive designs, without touching any HTML, CSS or Javascript. But I can also integrate or upload my own HTML, CSS or Javascript in case I want to include some interactivity, or other more complex client-side functionality.
Even after spending some time with acquiring skills in HTML5, CSS, Javascript, PHP and MySQL in order to introduce interactive elements on my site and prepare web apps and mobile apps as products, I still prefer SBI's BlockBuilder to get my content online. It is very comfortable to work with and ensures reliable and predictable results. The only thing that is missing a bit is the option to add my own PHP code including some database access. For this, I am sure that SBI's 24/7 support or the SBI Forums  will give me good ideas or alternative options how to proceed.
Conclusion
So far, my site is in a state that covers all my cost for running it, plus some more to enable software purchases for my "coding adventures" and app building. I keep it this way, because I still love my day job and take the business conduct guidelines coming with it very seriously. However, thanks to SBI's e-business building suite, I have a well-developed and sustainable platform that eventually will allow me to ramp up monetization quickly, and – I have no doubt – significantly.
So, nearly nine years after I found SBI, I can state: this is my jackpot!
Here, my SBI review could be complete.
But …
Warning of fake reviews
Currently, there are numerous so-called SBI reviews circulating the web, which follow a simple structure:
"The reviewer" pretends knowing SBI from the inside, without providing facts,

"The reviewer" devalues SBI, without providing facts,

"The reviewer" recommends a competitor's product (for the same purpose, i.e. building an e-business), again, without putting any evidence or facts "onto the table".
If you stumbled over such "reviews" already, simply quick-check them for clear references to their "successful" e-business examples or websites or other hard evidence. I bet you won't find any. In this case, file them in the "circular file", just as you would with any other get-rich-fast scheme.
Proof of SBI! success is available
Meanwhile, SBI conducted a very thorough comparative study, which does provide compelling proof that the SBI approach, as a whole, works most successfully. Surf there and check it out yourself, these are the hard facts.
Read some – or maybe all – of the SBI success stories of real people who created a profitable and valuable e-business. They show you vividly how they did it – and that speaks volumes.
One last remark
I am not an SBI affiliate and I am not receiving any payment for this SBI review. This is my own personal account in form of my journey as an SBI subscriber.
Return from SBI! Review to Home Page
---
---