WATERFALL MODEL

Published: 2009-11-11
Last updated: 2022-03-18
In its most simplyfied form, the waterfall model (or waterfall process) indicates that one phase of the project management process cannot start until the previous one is completed.
Let us look at a real life case.
The project is about construction of a storage building for intermediate storage of electronic consumer products, in a small community in the outskirts of a large city in Germany. Project owner is the company Delivery on Call (DOC), a large distributor of all kinds of consumer goods. DOC contracts Plan & Build (P&B), a famous construction company, for project planning and implementation.
As usual, the project management process should follow the waterfall process, essentially, completing the planning phase before starting the implementation phase.
Project Scope (simplified)

Shape and size of the property: rectangular, 60 m by 40 m.
Size of the building: length 25 m, width 15 m, height 6 m.
Foundation: reinforced concrete.
Main body: pre-manufactured steel frame, concrete panels, flat roof, including doors, windows, and insulation.
Access and exit gates of the premises shall be separated: gate 1 - in, gate 2 - out.
Other features: the building shall include 100 sqm of combined office space, kitchen, and bath rooms, with a footprint of 10 m by 5 m, on 2 floors, inside the building.


The final documents for design approval, handed in on March 15, 2007, include the following schematic (amongst others).
Project Schedule (based on the waterfall model, overview)

Start of implementation phase: September 01, 2007
Foundation complete: October 31, 2007
Roof complete, building closed: November 30, 2007
Building furnished, preliminary acceptance: February 14, 2008
Drive ways and parking lot paved, official opening: March 15, 2008
Landscaping complete, list of open points closed, project complete: May 15, 2008
Project Budget

Rough estimate, at the beginning of project planning phase: 1'5 million EUR, purchase of property not included.
---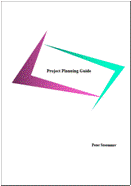 If you are looking for a textbook covering the complete project planning process, here, we offer you our e-book,
Project Planning Guide
, in PDF-format. It describes the core planning process in ten steps and contains an example (a photo-voltaic solar plant) to illustrate the application of the explained principles. This e-book complements classroom training on project management.
Click here for more info
, or
at
---
Situation in August 2007

Strictly following the waterfall process, P&B intends to wait for approval of all design documents before starting earth works. On August 15, 2007, they receive a phone call of their customer, DOC, saying that the responsible authorities cannot approve two separate gates because of traffic safety conditions. They would rather like to see only one, but combined, access/exit gate, and ask for redesign and re-submittal of all documents.
Possible Impact

That extra approval round would delay the start of project implementation by approximately 3 months, theoretically shifting the start of earth works from September 01, 2007 to December 01, 2007. Based on experience with weather conditions in this area, the more realistically expected start of project implementation would be March 01, 2008, delaying the whole project by 6 months.
This implies that DOC need to delay or divert certain distribution operations, additional cost EUR 60,000.—. Due to limited resources, P&B need to employ a sub-contractor for earth works and foundation works, resulting in additional cost of EUR 10,000.— for DOC.
Possible Solutions

DOC and P&B discuss two options:
(1) DOC sticks to the waterfall model, follows the procedure triggered by the authorities, and "swallows" additional cost of EUR 70,000.--.
(2) DOC instructs P&B to give up the waterfall model by changing the design, submitting the new set of documents, and starting earth works on September 01, 2007, based on the new design, then waiting for design approval before continuing with pouring the concrete of the foundation. This would avoid weather problems with earth works, reducing the project delay to only 2 months and additional cost to only EUR 30,000.--.
Real Life Decision

DOC decided for option (2), to give up the waterfall model.