Assigning Resources
Assigning Resources
Assigning resources represents step 7 of the project planning process.
We need to plan three different types of resources:
Human Resources: who will actually do the work, at what work load level?
Tools and machinery
Material
Human Resources
Together with the work package experts, we determine the areas and levels of skills and experience necessary to achieve the required results of that work package. Then we identify the people in our organization who have those skills and experience. In case those human resources are not available in our organization we need to decide if we hire or sub-contract to sub-suppliers or freelancers.
For each work package, we create detailed task descriptions that help us to prepare the target agreements for all colleagues who have to contribute to our project. These target agreements include work package specification, expected results, description of how the achievement of the results is measured, prerequisites, conditions under which the work has to be done, required start and end times. They should reflect a mutual understanding of all who are involved: project manager, line managers, and all the colleagues who will do the work. The result will be clarified bookings of the time which those colleagues will spend with our project.
Tools and Machinery
In a similar way, we will book tools and machinery. If not available within our organization, we need to decide about the necessary investment or renting them.
Material
The same principles count for all the material. We plan what we manufacture in our own factories, and what we want sub-suppliers to deliver.
---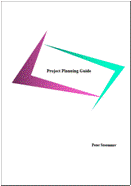 If you are looking for a textbook covering the complete project planning process, here, we offer you our e-book,
Project Planning Guide
, in PDF-format. It describes the core planning process in ten steps and contains an example (a photo-voltaic solar plant) to illustrate the application of the explained principles. This e-book complements classroom training on project management.
Click here for more info
, or
at
---
Sub-suppliers
For all work packages where we might not have the resources available within our own organization, we need to find external suppliers who can deliver the required results and services. With them we prepare, negotiate, and sign sub-contracts. Thus, we need to provide enough time in the project planning process so that we can carry out these preparations and negotiations without time pressure
External human resources

For example, the engineering and design of some components we need in our project might be outside of our area of expertise. Thus, we have to find external service providers to do the job for us. With them, we need service agreements that include, but are not limited to:
The engineering and design of the components to our specification;
Deliverables, like design drawings, manufacturing and handling instructions;
Future services, like manufacturing and installation support;
Payment milestones;
Handling of design errors;
Handling of design changes;
Handling of unexpected events, unplanned work and claims;
All other terms and conditions.
Tools and machinery
In terms of tools and machinery we need, but do not have available in our organization, we normally use rental contracts which include, but are not limited to:
Handling instructions;
Special training;
Service and maintenance instructions;
All other terms and conditions.
Material
For material, components and sub-systems we want to purchase, we set up purchasing contracts. They include, but are not limited to:
Engineering and design of those components or sub-systems to our specification;
Delivery terms;
Installation, commissioning and test instructions;
Service and maintenance instructions;
Payment milestones;
Handling of design errors;
Handling of design changes;
Handling of unexpected events, unplanned work and claims;
All other terms and conditions.
With assigning resources, we are ready to plan the project budget.
---
In case you would like to use practical and useful packages of tools, templates and checklists, here you can get them. They save you a lot of time, are easy to use and easy to change:
All four PM Phases in one Set

---
Return to Project Planning

Return from Assigning Resources to Home Page
---
---